Working on a tight budget is nothing new for church creatives. This is the world we live in 99% of the time. Luckily, there are many free design resources these days to help you out.
But, I know the struggle that comes with this. You could spend countless hours searching all around the internet to find resources that look good and follow the correct rules to be used at a church. (Hint – A commercial license is always the safest route.)
To make it easy for you, I've pulled together a list of top-notch resources that are completely free, look awesome, and are safe to use for ministry purposes.
1. Mockup World
This go-to resource claims to be the largest collection of free photorealistic mockups online, and I'd add that it's the best. It's packed with editable Photoshop files that make it easy to showcase your designs or website being used in real-world imagery. These assets will look great on your Instagram feed.
Try Mockup World Now
2. Pexels
Pexels is a free stock photo website and app that is filled with thousands of high-quality images from professional photographers that you can use in your designs at no charge to your church. You'll love the variety of their photos and a super precise search feature.
Try Pexels Now
3. Coolors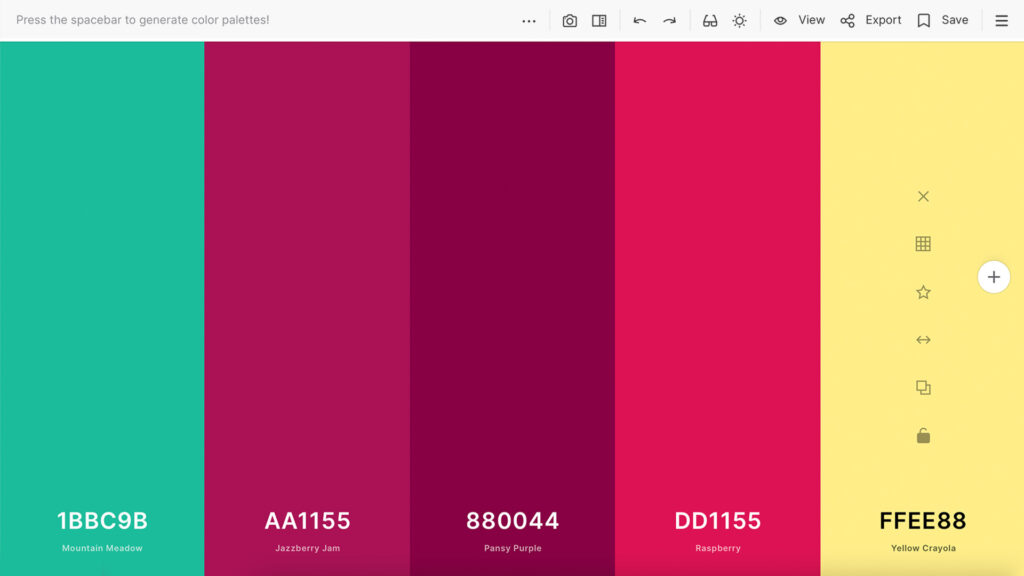 Coolors is an essential tool for creating and collecting color palettes. It allows you to generate perfect matching colors in seconds—even if you are not so skilled in design. This is a great way to come up with branding color schemes or add color any graphic in need of a vibrant look.
Try Coolors Now
4. Font Squirrel
This large collection of free, commercial-use fonts has become one of my go-to resources for finding typefaces that haven't been overly used across the web. Use these fonts when versatility is a priority.
Try Font Squirrel Now
5. WhatTheFont
While we're on the subject of fonts… Don't you hate when you see a really awesome font somewhere, but you can't seem to find it online? This handy tool makes it easy to use a simple image to find the exact match online. Trust me. You're going to want to bookmark this one.
Try WhatTheFont Now
6. CMG Editor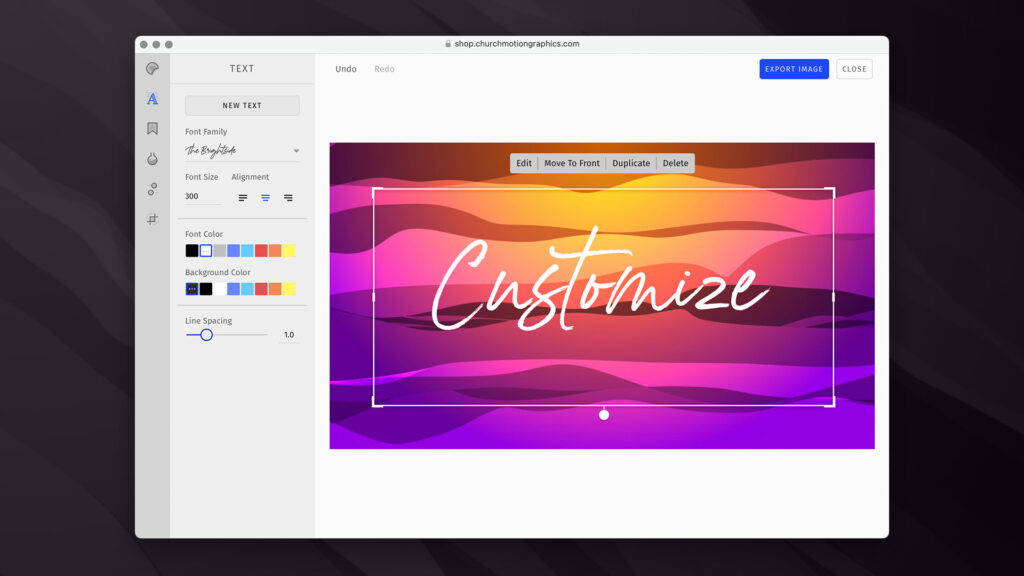 ChurchMotionGraphics.com is already known to be a go-to resource for creative churches around the world. We love being able to partner with them to make this blog possible. Let's start by talking about the 5,000+ completely free still backgrounds that are available to download every day. No catch. I think this might be the best deal on the internet. But, what's even more incredible is that once you click into those stills, you are presented with an option to "Open In CMG Editor." This is where the magic happens. This free tool basically turns into an in-browser graphic design studio. You can create amazing images for your church in just a few clicks for $0. Watch a tutorial video here.
Try CMG Editor Now
7. Social Sizes
Created by Peter Assentorp, this free resource provides designers with the best sizes to use for image and video content on social media. Even better is that they have downloadable templates that you can bring right into your favorite graphic design software. This is essential.
Try Social Sizes Now
8. Unsplash
As much as we love Pexels that we mentioned earlier, I can't deny that Unsplash is the undisputed king of the free stock photo. This collection of thousands of super creative images was the first website to make stock photography available for free. They changed the game and are still my go-to resource for photos in my church and even this blog.
Try Unsplash Now
9. Humaaans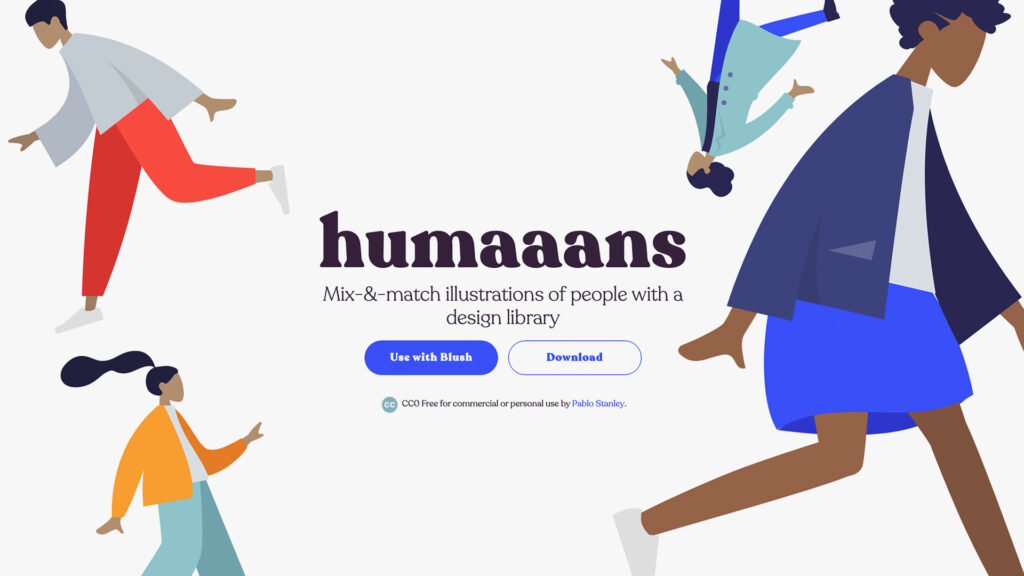 With Humaaans, Pablo Stanley created something quite special: modular, vector illustrations of people that you can mix, match, rotate, and position to make unique designs. These assets make it super easy to create your own trendy graphic showcasing people. You'll look like a pro in no time.
Try Humaaans Now
10. Google Fonts
This library of over 1000 free-licensed font families is a go-to resource for designers and web developers around the world. All of them are created to the high standards that you'd expect from a professional brand like Google. I personally love how there are so many versions of the fonts that are available.
Try Google Fonts Now
11. Flaticon
Having access to top-notch vector icons is essential to design. While not everything is free on this site, it's still my go-to choice for finding quality icons that I can use for my church. When searching, be sure to use the filters to see only the free options. You'll be surprised by just how many are available for $0.
Try Flaticon Now
12. Remove BG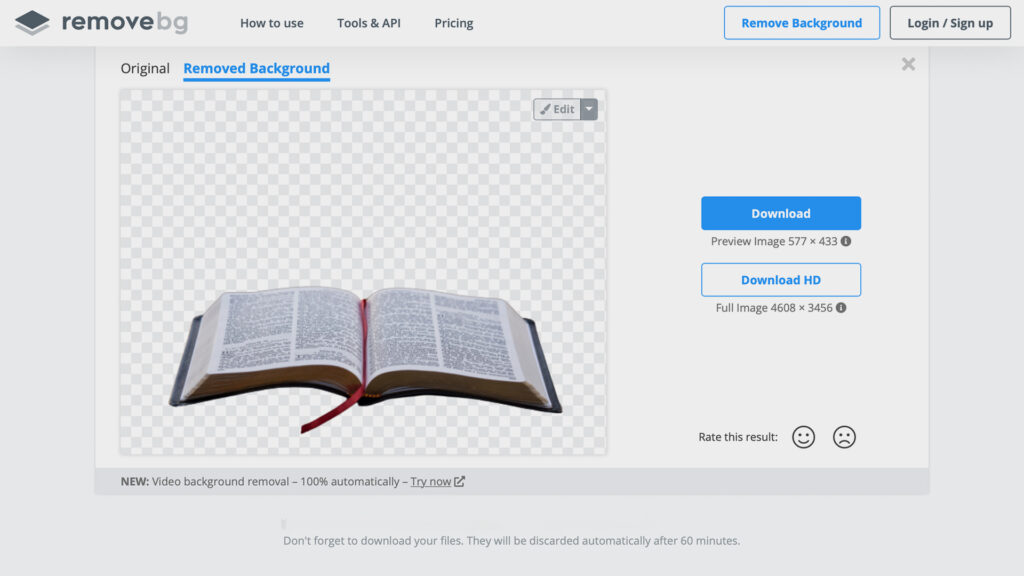 Need to remove the background from a photo? No problem. This free tool can do it surprisingly quickly, and it just takes one click. Even though you may be able to accomplish this same task in a program like Photoshop, the convenience of this resource makes it worth a try – especially when on mobile.
Try Remove BG Now
What Do You Think?
Have you used any of these free tools in the past? Which one is your favorite? Are there any others that you'd recommend? Let us know by leaving a comment down below!
Notice: Church Motion Graphics is the parent company of The Creative Pastor.