Serving in production can often be one of the loneliest places to be involved in the church. Because of the early mornings, long days, and late nights that sometimes make up this unique area of ministry, only the most committed individuals stick it out. You can be left feeling like you're in this alone.
During this season of Covid-19, there is more isolation than ever for those working hard to keep their church reaching the community while we all practice safe social distancing.
But, it shouldn't be this way.
Even if you don't have people around you in your church to help in this area, there are thousands of people around the world who are serving in church media just like you.
The best part is that it's easier than ever to connect with them. Facebook Groups have made it incredibly simple to connect with like-minded individuals serving in church tech.
Here are three great places you can find community online:
1. CMG Community
The CMG Community Facebook Group is an easy choice for getting connected online because of its focus on the visual aspects of production. Its members take the guesswork out of things like presentations, video, and streaming. If you are involved with the screens at your church, this group is a must.

Their mission: CMG Community is a growing group of church tech leaders and volunteers who build up, encourage and equip others by sharing questions and ideas about screen visuals, graphic design, live events, video production, lighting design, stage design and all other media topics.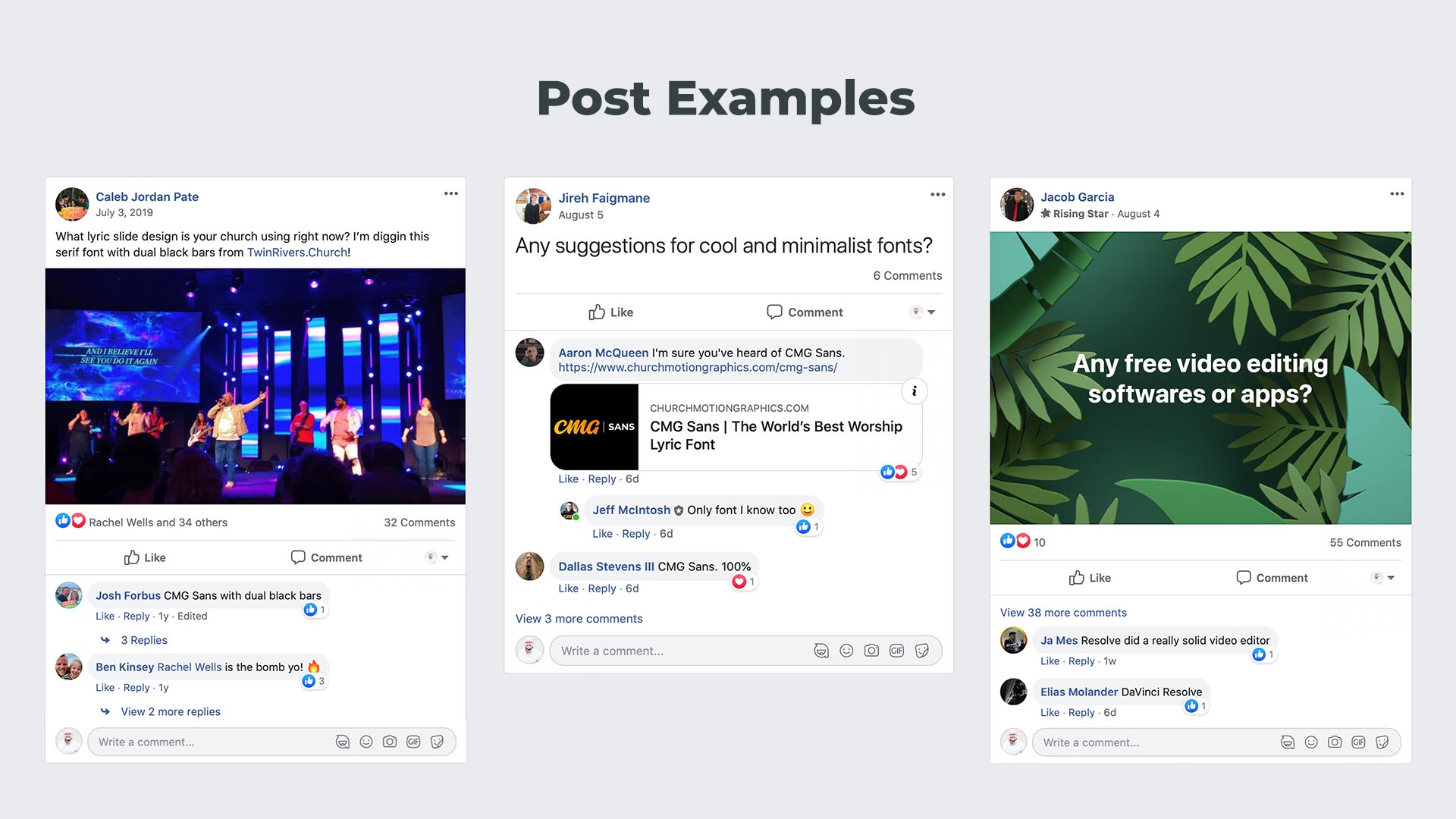 This group is currently filled with over 40,000 members from a variety of church backgrounds. It's a great environment to learn the latest techniques for your church's screens, stages, streams, etc.
Join The CMG Community Group
2. Church Communications
The Church Communications Facebook Group is a valuable community to get connected with because there is so much that goes into what ministries are communicating to the world right now. They can help you make sense of things such as emails, social media, and more.
Their mission: This is a community for church communicators. We encourage and equip each other by sharing expertise, asking questions, and offering ideas about branding, graphic design, the web, social media, print design, and other related topics.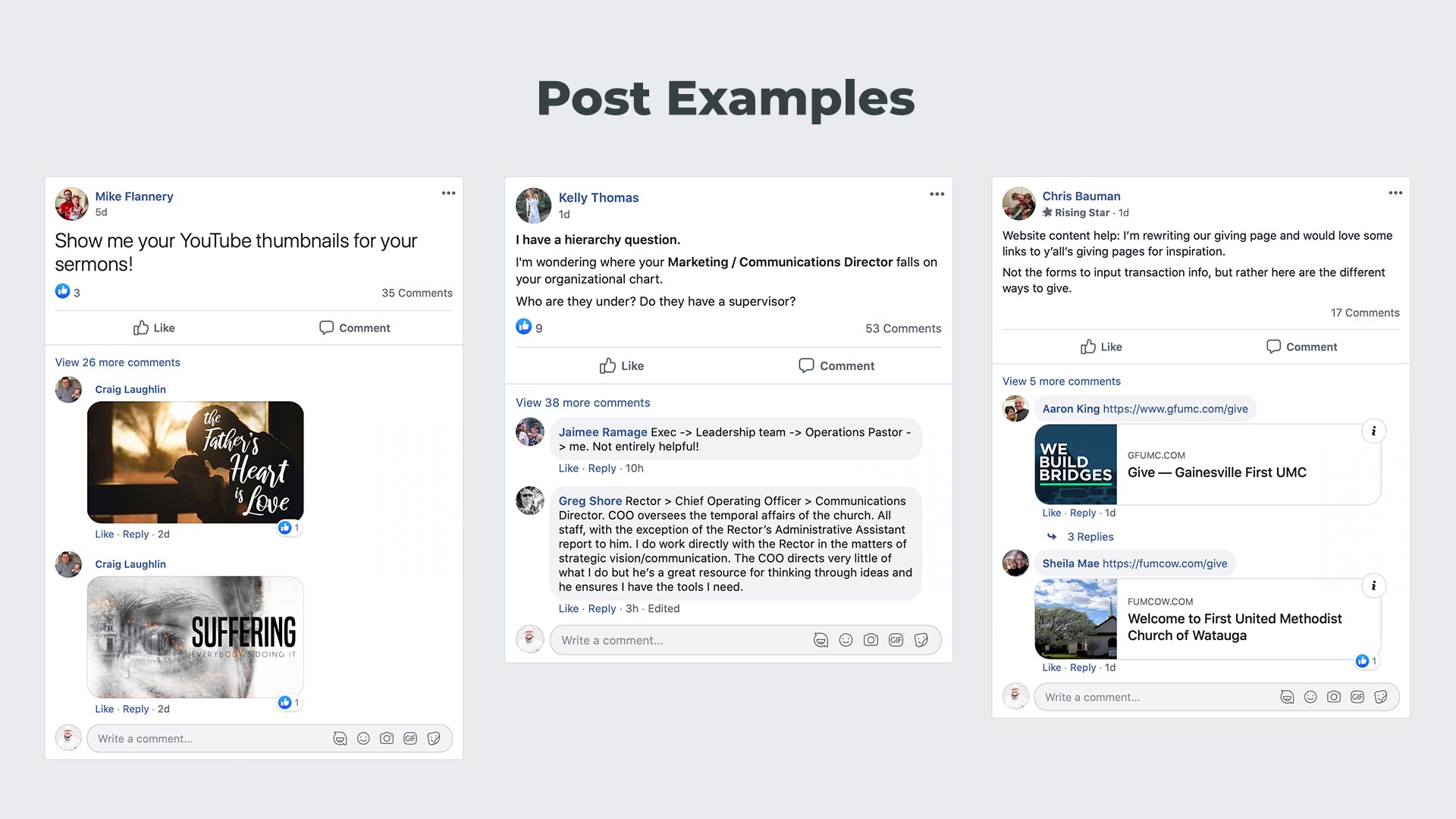 It's filled with over 25,000 members, and is a great place to learn more about how your church staff can properly communicate information effectively to your community.
Join The Church Communications Group
3. Church Sound & Media Techs
The Church Sound & Media Techs Facebook Group is one of the oldest communities online that offers help for sound and media in ministry. It's full of passionate individuals who know their gear well.

Their mission: This group is for Techs to pass on knowledge that they may have to others that might need it. About Equipment, Mixing – Recording Techniques, Presentation Software, Lighting, Projection, And so on. Anything Tech or Media related.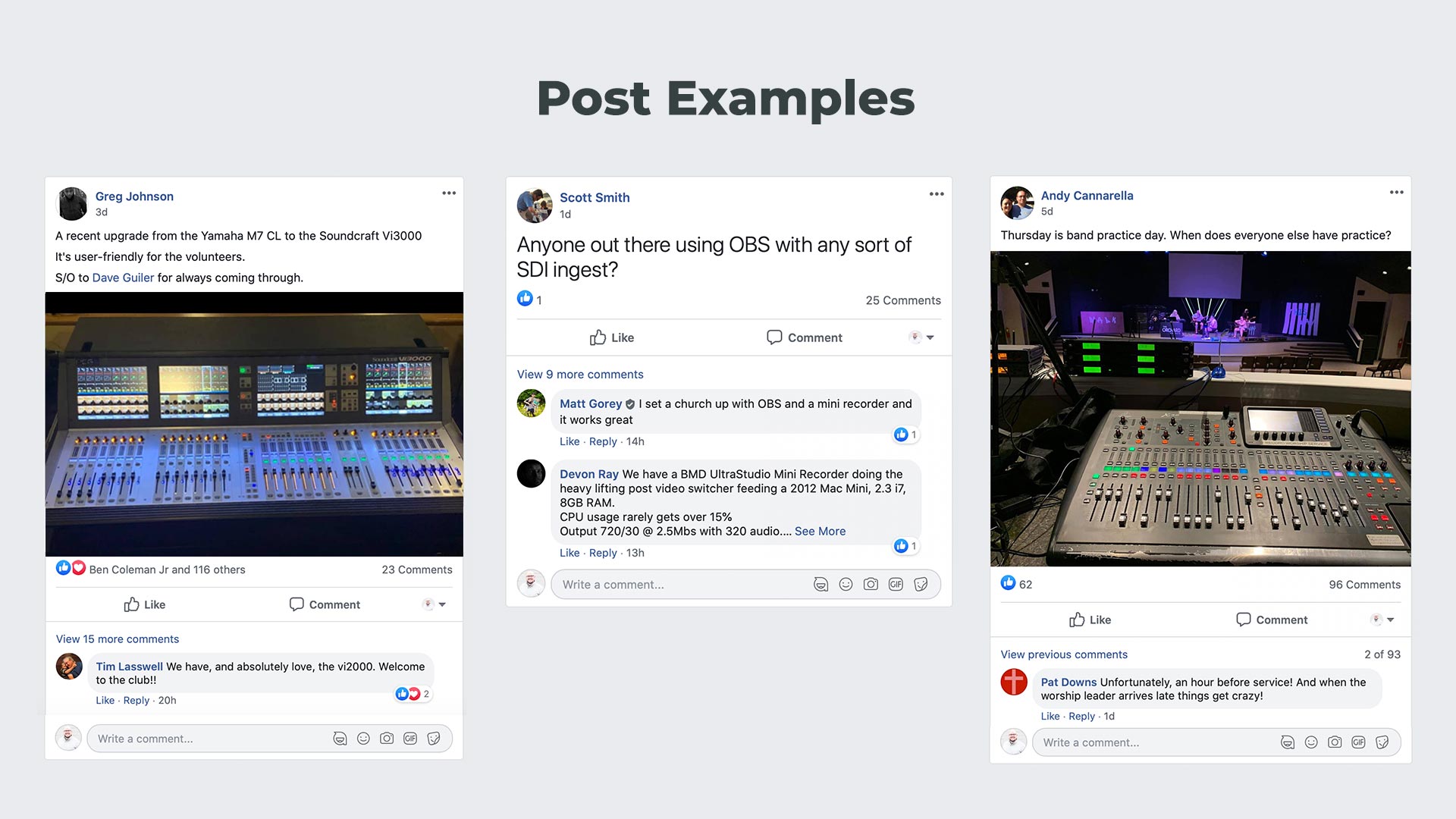 This group is filled with over 65,000 members, and is a great place to learn the latest techniques for your church's audio, recording, equipment, and more.
Join The Church Sound & Media Techs Group
What Do You Think?
Are you a part of one of these Facebook groups? How have they added value to your life and ministry? Which one is your favorite? Let us know by leaving a comment below.
Notice: The Creative Pastor is owned and operated by Church Motion Graphics, Inc. and is affiliated with the "CMG Community" Facebook Group.