One of the best ways to boost engagement on your church's social pages is by posting frequently. Many experts on Facebook, Instagram, Twitter, and other popular social platforms recommend posting at least once per day to be successful in reaching your community online.
But, it's not easy coming up with content to fill your pages every day. Even more, it can be difficult to come up with quality content that not only keeps your pages alive but also truly connects with your audience.
But, I'm here to help with a solution that's not only easy, it's free.
For the past few years, I've been noticing the power of the simple text post. This format certainly works on Twitter since it was originally created for this purpose. It's also applicable on Instagram stories where they can be used in Create Mode to present questions to your followers. However, the platform where simple text posts have seemed to really take off lately is Facebook.
Not long ago, Facebook implemented a new feature that would allow text posts using 85 characters or less to appear larger in the timeline. This makes these simple text posts stand out for users.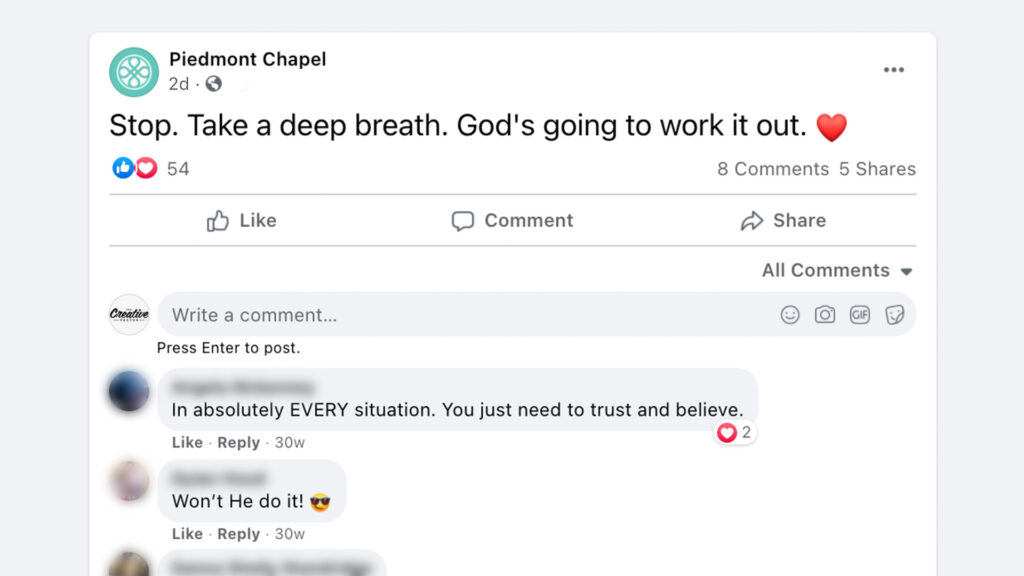 While I don't think a church should ONLY use text posts on their pages (because that would look super boring really quickly), I do think they have a rightful place among graphic designs, real photos from your church, and videos. When used in conjunction with these other kinds of posts, simple text posts perform just as well statistically as the others on Facebook Pages and Facebook Groups—except they require much less work from you. At minimum, text posts can be used as fillers on days where you don't have any other content ready. Or, they are a great way to begin going above and beyond by publishing more than one post per day.
To help you get started is using these posts, I've put together 99 examples that are ready to use on your church's social pages. Plus, they are all 85 characters or less, so they'll show up large on the timeline.
I've separated them into three categories for you to choose from—inspiration, interaction, and invitation. Simply copy and paste them right onto your page to start using them!
Or, to make them even more special, try adding a relevant emoji to the end of the post.
Again, I wouldn't recommend using these as your only posts. I believe you need eye-catching graphics, photos, and videos to work in conjunction with these text posts to be successful. For the best social graphics for churches, I definitely recommend the social graphics from our partners, Church Motion Graphics. They make it easy to post engaging content every day that your community will love.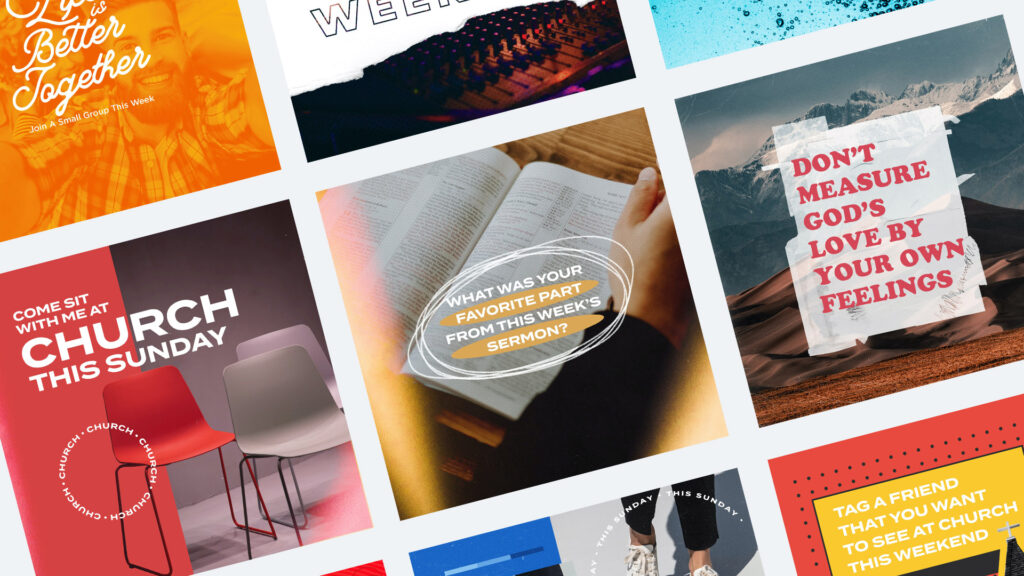 Now, onto the freebies…
Inspiration Text Posts
Try these posts to spread the light of Jesus and brighten your followers' social timelines.
You are not who others say you are. You are who God says you are.
Your past doesn't disqualify you. It prepares you.
When Christ is all you have, you'll realize Christ is all you need.
Don't look back. Look forward. The best is yet to come.
Our God is faithful to provide everything we need.
We may enjoy God on the mountaintops, but we get to know Him in the valleys.
We can learn how to love all people by looking to Jesus. He showed us the way.
You are never stronger than when you are dependent on God.
Reminder: Worry doesn't work. Take it to God instead.
No matter what, don't stop worshiping, praising, or praying.
Jesus is enough for any situation that you find yourself in.
God can make a way where there is no way. Whatever you're facing, give it to Him.
Give God your best and He will bless the rest.
Rejoice always. Pray continually. Give thanks in all circumstances.
Every miracle seems impossible at first. Believe for great things!
Look at bad circumstances with eyes of faith. Believe for a better tomorrow.
Be careful not to compare your Chapter 1 to someone else's Chapter 20.
Don't be pushed around by your problems. Be led by God's promises.
God can turn around any situation. Keep praying. Keep believing. Keep trusting.
Stop. Take a deep breath. God's going to work it out.
God has brought you too far for you to give up now. Keep going.
Have you prayed about it as much as you've worried about it? God's ready to listen.
Trust God in the big things and the small things. He cares about all.
Just when everyone thinks a story is over, Jesus steps in and changes everything.
Had a long week? Hang in there! God is with you every step of the way.
Be an encourager! Kind words cost you nothing and can mean everything to others.
As long as there is still breath in your lungs, there is still hope for your life.
There's nothing so broken that God can't build something from it.
Remember: God's purpose for you is stronger than any problem you're facing.
Let your hope in Jesus be your anchor in every situation.
You don't have to understand God's plan to trust that He has a purpose.
Prayer is the difference between the best we can do and the best God can do.
Don't keep Jesus to yourself! Talk about Him and share what He's done in your life.
Interactive Text Posts
Try these posts to spark engagement and friendly conversation on your church's social pages.
Which emojis do you use most?
What's your go-to flavor of ice cream?
Tag the best cook that you know.
What's your go-to morning drink?
What is one food that you could eat forever?
Who is the best superhero?
Tag a friend who can always cheer you up!
Emoji responses only: How's your week going?
Which person in the Bible do you relate to most?
What's your favorite video game of all time?
What was your favorite subject in school?
Tell us all of your favorite sports teams in the comments.
What's one piece of advice you'd give to your younger self?
What's your favorite place to get lunch after church on Sundays?
Who has been a hero in your life?
What's the best donut shop in town?
List 3 things that you're thankful for today in the comments.
Let's play a game. Quote a lyric in the comments and let others guess the song.
Drop a photo in the comments that you've taken at our church.
What is your favorite worship song right now?
What's your favorite Bible verse right now?
What was your favorite part of this week's message?
How can we pray for you today?
How old were you when you found Jesus?
What is your favorite way to serve at church?
What is your favorite book of the Bible?
Name an old worship song that you still love.
Tell us your testimony in one sentence.
Share a praise report in the comments!
Fill in the blank: Dear Jesus, _
Tell us about a time that God showed up in your life in a big way.
Describe our church in one word!
Tell us a Bible story using only emojis.
Invitation Text Posts
Try these posts to remind people of your upcoming services and encourage them to bring a friend.
Tag someone you want to see at church this weekend!
It's a great day to worship Jesus! See you at church!
Use a GIF to describe how excited you are for church this Sunday.
Ever wish life had a reset button? Coming to church may be the fresh start you need.
When you have a church you love, every Saturday is basically "Sunday Eve."
A simple invite to church could change someone's life. Who are you inviting?
How did you first hear about our church?
See you at church this Sunday!
We're saving a seat just for you. See you at church this Sunday!
It's almost time for church! We hope to see you.
Searching for a church? We'd love to see you this Sunday.
Tomorrow is Sunday! We can't wait to see you.
We have fun Bible activities for kids every Sunday. Your kiddos will love it!
Don't forget to invite a friend this week!
The big day is here! See you soon.
Looking for a fresh start for your family? Join us for church this Sunday.
On Wednesdays, we go to church. See you tonight!
Know someone going through a rough time? Invite them to church with you.
Feel like something's missing in your life? Try church this Sunday.
Worship with us this weekend!
You don't have to have it all figured out to come to church.
Raise your hand if you're ready for church!
We have free coffee for everyone on Sundays. Get yours this weekend!
If you're reading this, this is your invite to church.
The coffee is hot. The band is rehearsing. We're ready to see you!
Church is the perfect place for imperfect people.
Sunday won't be the same without you!
It's never just another Sunday here. Don't miss a service!
A great week starts with a great Sunday. See you soon!
Church is more than a place. It's a family!
Invite a friend. Or two. Or ten!
Looking for a church that feels like home? We can help.
Start a new habit. Join us for church this Sunday.
Take It To The Next Level
Again, if your church's social pages are just made up of text posts, it's going to get boring pretty fast. Things work so much better when you blend these text posts with other posts made up of graphics, photos, and videos. For the best social graphics for churches, I definitely recommend the social graphics from our partners, Church Motion Graphics. They make it easy to post engaging content every day that your community will love.
What Do You Think?
Have you tried doing these simple text posts on your church's social pages?
Will you be using any of these post ideas? Let us know by leaving a comment below.