As we came into 2016, our church's leadership team had a vision to launch several new projects, including live video. Behind this idea was our lead pastor's heart to reach outside of our four walls and provide a worship experience for those away. But beyond that, we also hoped to create a better experience in our auditorium and pave the way for a second satellite location.
Our church, Piedmont Chapel, is a plant that was launched back in September 2014, so we are still new kids on the block. We are a portable church meeting in a movie theater with on-site storage available. On Sundays, we have two services and run around 400 in attendance. Being new and portable both bring their own set of challenges in terms of budget and setup.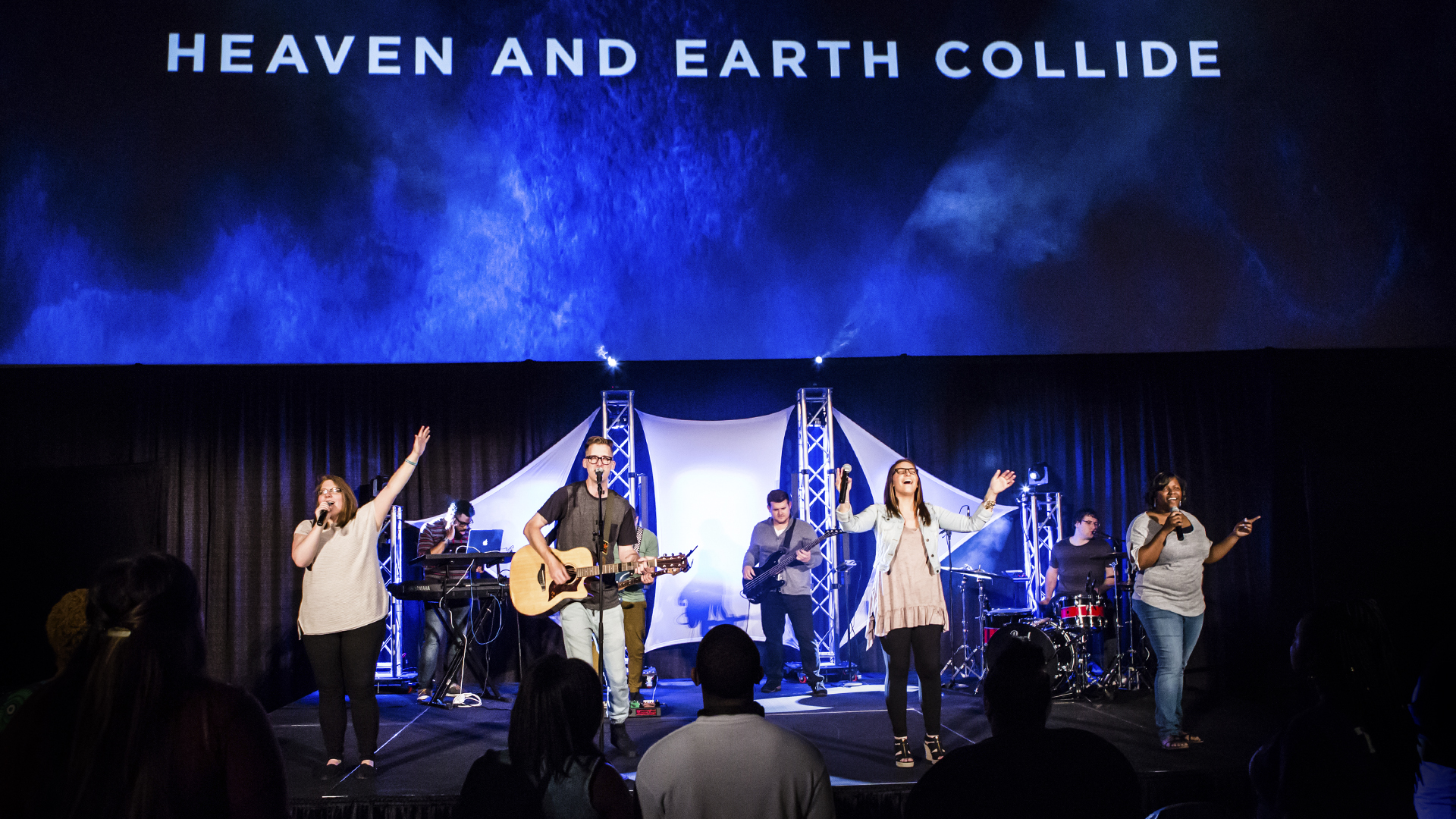 With the help of a few friends who are experienced in the production world, lots of YouTube videos, and a few Facebook groups, I took on the task of putting together our video package rather than going through an outside consultant.  My goal was to accomplish these tasks:
• Live stream video of our services online (website + app)
• Archive messages on our website and app
• Record/archive our services for use in promo videos
• Display "IMAG" in our auditorium during messages
• Prepare to send video to a second location in the future
Accomplishing this vision was made possible by the generosity of our church family. As a part of our Christmas offering, we were able to raise $25,000 to go towards making this project a reality. God is good! I began my research soon after and we were ready to go live by Easter Sunday.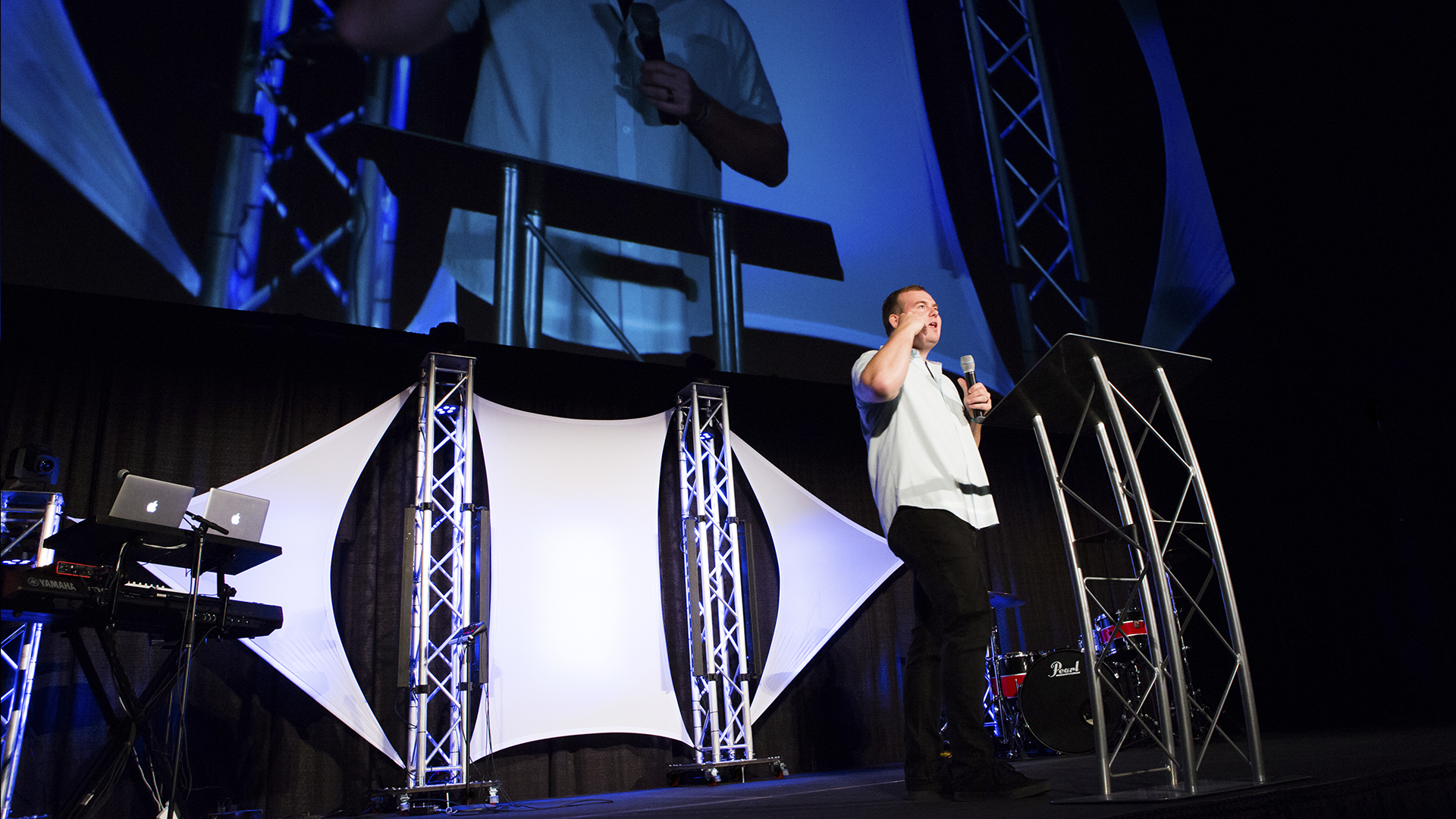 Because of our portable location and unconventional masking on our projector (see photos), I had to put together a pretty unique system. For example, our switcher is actually two switchers in one – one is used for streaming/recording and the other sends a masked image to our projector to work with our stage setup. Most churches could get away with a switcher that's 1/4 of the price.
Another interesting example is that we run two different iMacs with ProPresenter. One is solely for the stream/recording, while the other is sized to show in our auditorium.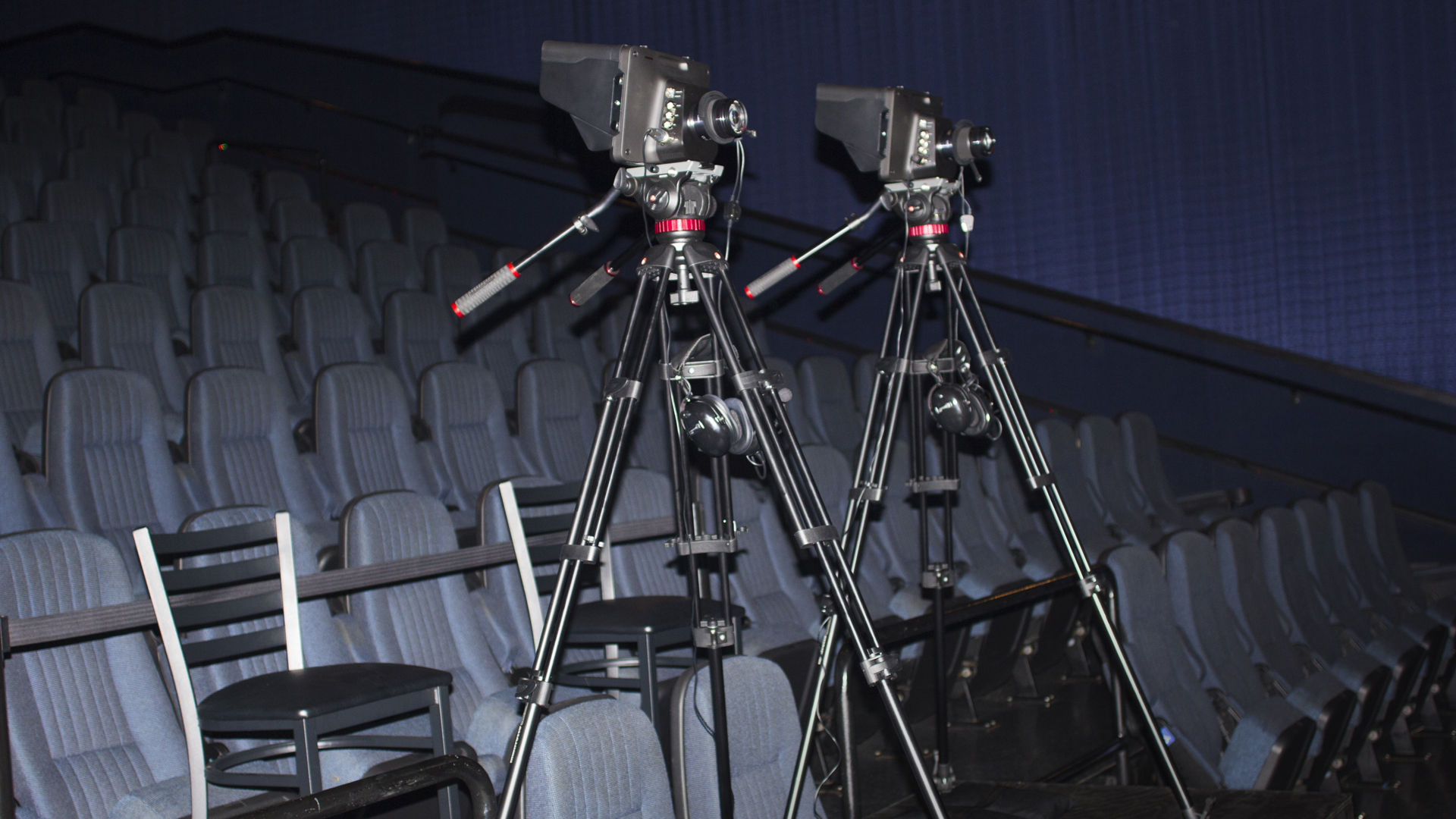 I built most of our system on BlackMagic Design products. We use an ATEM switcher, the new Studio Cameras, and several of their adapters. While BMD products all seem to have their challenges and workarounds, I've been happy our system overall. I especially love being able to run one fiber cable from our switcher to each camera rather than a thick snake of SDI's and com cables.
Other interesting notes about our system:
• We run a four camera system – two cameras on a center platform, one on drums, and one in the back of the room.
• Our "video world" is located in the projection room of our theater. We are able to leave this equipment set up throughout the week.
• All of our audio comes straight from our X32 sound board via two XLR cables.
• We use a Mac Mini with a Dell touchscreen monitor to control our switcher.
• The Teradek VidiU Pro is our primary device for streaming and is one of my new favorite pieces of equipment to recommend.
• We stream for FREE by using YouTube Live Events and the Church Online Platform. (We also hope to integrate Facebook Live soon.)
• Because we cannot get internet at our portable location, we use a 4G Verizon Wireless hotspot for all of our streaming. We've successfully streamed at 720p with no problems for two months.
While I have been extremely happy with our results, I've realized that live video and streaming is not for every church. There is a large cost upfront and it requires a lot of manpower. Our setup requires at least five team members on Sundays. Our team is getting better each week, but I have to spend a lot of time with them perfecting our product. (And we still have a long way to go!)
At two months in, we average about 100 devices watching live each week. In addition, we average around 120 on-demand views every week. Our next step is to add an online campus pastor that can interact and pray with these viewers on Sundays as we continue to build our audience.
Below is also a link that gives a full equipment list and budget of what we purchased. I hope it will help you as you consider live streaming in your church!
Download Equipment List
What Do You Think?
Does your church do live streaming?
Let us know by leaving a comment below!